With 7 grandchildren, a derelict tennis court and a significant amount of 2nd hand play equipment – Please design and build a play area suitable for 1 to 10 year olds using all the available equipment…
"Make it inspiring, imaginative and something they will want to keep coming back to".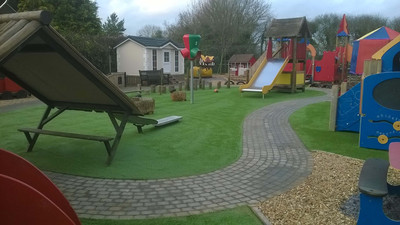 Utilising block pavours, a 50m go cart track was used to link all the areas together. Through changing the play surfaces there was a balance of safe and soft artificial lawn off set by the aesthetic benefit of the different aggregates.
We used all the available play equipment and ensured that it was made completely safe. Where the Fort was beyond repair, we used the timber to create a new fort surround, created tunnels into it, using the timber pillars to create a stilt obstacle course and half tyres to give the feel of a race track.
The project lasted 3 ½ weeks and was finished on Christmas eve in time for the Children being surprised on Christmas day….
Videos - Private Garden Childrens play area
Videos - Private Childrens play area